Accommodation for World Masters Games participants
問い合わせ番号:15838-8997-8718
更新日:
○

Please enjoy your choice of accommodation
Lodging places are divided into three main areas: the sea area near the station (Kasumi), the most beautiful village area in Japan (Ojiro), and the mountain area near the competition venue (Muraoka).
(The most beautiful villages in Japan are those that seek to protect the landscape, environment and culture of agricultural and mountain villages in the future, and are recognized as members of the Union.)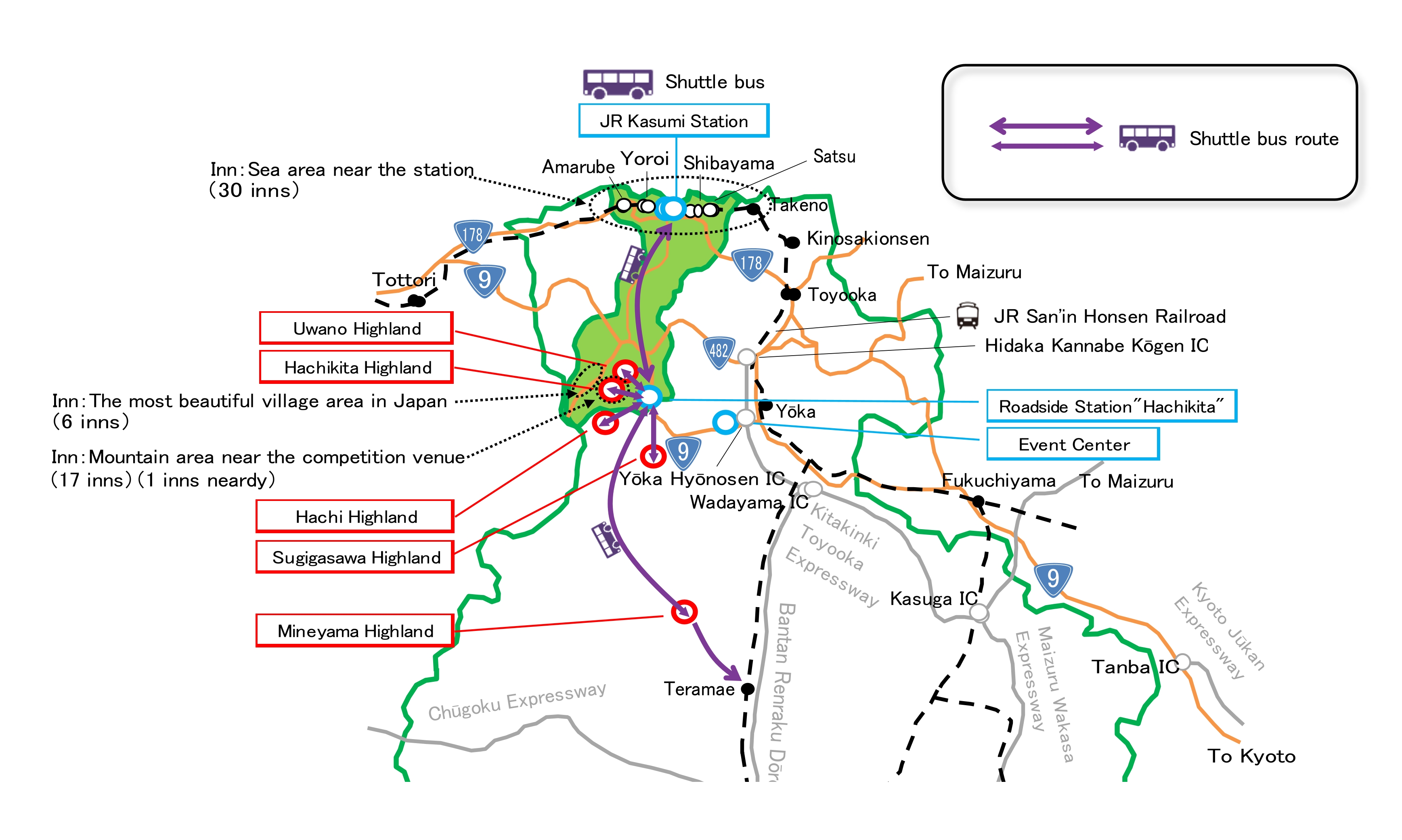 On the competition day (May 24-28), a shuttle bus will be operated from JR Kasumi Station to each competition venue via Roadside Station "Hachikita". Many inn staff will pick you up from the nearest stationor Roadside Station Hachi Kita, so you can make reservations with confidence.
Reservation of accommodation can be made from the following URL "World Masters Games 2021 Kansai Official Accommodation Reservation Page" or the website of each hotel.
Accommodation reservation page (WMG2027 Kansai Official HP) *Preparing for the postponement.
○

List of accommodation facilities
Review rating is 2020 rating
Accommodation

Pictures
Comment
Infomation
HP
Mail

Sea area

near the

station

丸世井




(marusei)

(1) The indoor bath is a hot spring. Semi-open-air bath available, morning bath available.(7:00-9:00)

(2) Elevator for elderly.

(3) Japanese Jalan net reviews. (total 4.7 / 5.0, dinner 5.0 / 5.0)

・ Wi-Fi ○

31-1 Kasumi-ku Kasumi,

Kami-cho, Mikata-gun,

Hyogo 669-6544, JAPAN

5 minutes by car from JR Kasumi Station
(pick-up)
Tel +81-796-36-0028

English

yoyaku1955@kaniyado-marusei.jp

Sea area

near the

station

いしだ




(ishida)

(1) Jalan net reviews. (total 5.0 / 5.0, dinner 5.0 / 5.0)

(2)Banquet room, Karaoke available. (Paid)

(3) Homemade vegetables that are safe and secure.

1265-5 Kasumi-ku

Kasumi, Kami-cho,

Mikata-gun, Hyogo

669-6544, JAPAN

5 minutes on foot from JR Kasumi Station
(No pick-up)
Tel +81-796-36-0891

Japanese

-

Sea area

near the

station

庄屋




(shoya)

(1) The indoor bath in the building has a hot spring and a private bath.

(2) It's listed on the Michelin Guide 2016 Hyogo version.

(3) Massage, sea kayak experience possible. (reservation required, Paid)

・ Wi-Fi ○

1396 Kasumi-ku Kasumi,

Kami-cho, Mikata-gun,

Hyogo 669-6544, JAPAN

4 minutes on foot from JR Kasumi Station
(pick-up)
Tel +81-796-36-3512

Japanese

info@syouya.net

Sea area

near the

station

IPPEN




(ippen)

(1) Three sets of glamping per day.

(2) Bath is free of charge at Sadasuke, a sister hotel. (Transfer available)

(3) You can choose seafood, meat (Tajima beef), curry, etc. Dinner, optional crab and abalone.

・Wi-Fi ○

308 Kasumi-ku

Nanokaichi, Kami-cho,

Mikata-gun, Hyogo

669-6546, JAPAN

7 minutes on foot from JR Kasumi Station
(No pick-up)
Tel +81-80-2506-7335

English

ippen.sadasuke@gmail.com

Sea area

near the

station

ひろや




(hiroya)

(1) The indoor bath has a hot spring rock bath and a sauna.

(2) Jalan net review (dinner 4.7 / 5.0)

(3) Reasonable.

・Wi-Fi ○

15-1 Kasumi-ku

Shimonohama,

Kami-cho, Mikata-gun,

Hyogo 669-6564, JAPAN

4 minutes by car from JR Kasumi Station
(pick-up)
Tel +81-796-36-0465

Japanese

info@kasumi-hiroya.com

Sea area

near the

station

三宝
(sampo)

sold-out

(1) The indoor bath is a hot spring bath.

(2) It's listed on the Michelin Guide 2016 Hyogo version.

(3) Jalan net review (dinner 4.7 / 5.0)

・Wi-Fi ○

653-5 Kasumi-ku

Shimonohama,

Kami-cho, Mikata-gun,

Hyogo 669-6564, JAPAN

4 minutes by car from JR Kasumi Station
(pick-up)
Tel +81-796-36-3545

Japanese

sanpou@wonder.ocn.ne.jp

Sea area

near the

station

太平




(tahei)

(1) The indoor bath is 100% natural hot spring.

(2)Reasonable

(3)Relax & cozy

・Wi-Fi ○

288 Kasumi-ku

Shimonohama,

Kami-cho, Mikata-gun,

Hyogo 669-6564, JAPAN

4 minutes by car from

JR Kasumi Station
(pick-up)
Tel +81-796-36-1637

Japanese

tahei@skyblue.ocn.ne.jp

Sea area

near the

station

梅乃家




(umenoya)

(1) The bath that can be reserved is a hinoki stone bath.

(2) They have color yukatas.

(3) Fish and shellfish are purchased by the master from the port.

・Wi-Fi ○

308-1 Kasumi-ku

Shimonohama,

Kami-cho, Mikata-gun,

Hyogo 669-6564, JAPAN


4 minutes by car from

JR Kasumi Station
(pick-up)
Tel +81-796-36-2941

Japanese

-

Sea area

near the

station

川本屋




(kawamotoya)

(1) The indoor bath is a hot spring, and there are Towada stone baths, cypress baths, open-air baths, and private baths.

(2) It's listed on the Michelin Guide 2016 Hyogo version.

(3) Japanese Jalan net review (dinner 4.9/5.0、Room 4.8 / 5.0, cleanliness 4.6 / 5.0)

・Wi-Fi ○

653-16 Kasumi-ku

Shimonohama,

Kami-cho, Mikata-gun, Hyogo 669-6564, JAPAN


4 minutes by car from

JR Kasumi Station
(pick-up)
Tel +81-796-36-0468

Japanese

info@kawamotoya.co.jp

Sea area

near the

station

さだ助




(sadasuke)

(1) The indoor bath in the building has an open-air bath that can be used for 24 hours at the hot spring and a private bath for cypress.

(2) It's listed on the Michelin Guide 2016 Hyogo version

(3) Jalan net review (dinner 4.7/5.0, cleanliness 4.6 / 5.0)

・Wi-Fi ○

634 Kasumi-ku

Shimonohama,

Kami-cho, Mikata-gun, Hyogo 669-6564, JAPAN


4 minutes by car from

JR Kasumi Station
(pick-up)
Tel +81-796-36-0772

English

info@sadasuke.com

Sea area

near the

station

せきのや




(sekinoya)

(1) The indoor bath in the building has a hot spring, and they have a private bath.

(2) Sea kayak experience possible (reservation required,Paid)

(3) The owner owns the fish and shellfish, and the vegetables are homemade organic.

・

Wi-Fi ○

59-2 Kasumi-ku Yada,

Kami-cho, Mikata-gun, Hyogo 669-6563, JAPAN


4 minutes by car from

JR Kasumi Station
(pick-up)
Tel +81-796-36-3782

Japanese

sekinoyaz@gmail.com

Sea area

near the

station

つかさ




(tsukasa)

(1) There is a private bath

(2) Fish and shellfish are purchased directly from the port, and vegetables are homemade.

(3)Relax & cozy

・Wi-Fi ○

58-1 Kasumi-ku Yada,

Kami-cho, Mikata-gun, Hyogo 669-6563, JAPAN


4 minutes by car from

JR Kasumi Station
(pick-up)
Tel +81-796-36-2055

Japanese

-

Sea area

near the

station

なべや




(nabeya)

(1) The indoor bath in the building is

a hot spring.

(2) 6 years after renewal, ocean view

(3) Cooking volume ◎
・Wi-Fi ○

871 Kasumi-ku

Shimonohama,

Kami-cho, Mikata-gun, Hyogo 669-6564, JAPAN


5 minutes by car from

JR Kasumi Station
(pick-up)
Tel +81-796-36-0462

Japanese

-

Sea area

near the

station

三七十館




(minatokan)

(1) The indoor bath has a hot spring and a guest room with a view bath.

(2) It's listed on the Michelin Guide 2016 Hyogo version.

(3) 1st in the Jalan Awards for the 8th consecutive year

・Wi-Fi ○

906 Kasumi-ku Sakae,

Kami-cho, Mikata-gun, Hyogo 669-6541, JAPAN


8 minutes by car from

JR Kasumi Station
(pick-up)
Tel +81-796-36-3330

Japanese

minatokan-3710ym@zeus.eonet.ne.jp

Sea area

near the

station

いまご荘 櫂の詩




(imagoso kainouta)

(1) The indoor bath in the building has an open-air bath at a hot spring and rooms with a view bath.

(2) There is an Irori in the lobby,and they have color yukatas.

(3) Jalan net review (dinner4.9 / 5.0, breakfast 4.7 / 5.0, customer service 4.7 / 5.0)

・Wi-Fi ○

634 Kasumi-ku Sakae,

Kami-cho, Mikata-gun, Hyogo 669-6541, JAPAN


11 minutes by car from

JR Kasumi Station
(pick-up)
Tel +81-796-36-0856

Japanese

imago@kainouta.com

Sea area

near the

station

山水苑




(sansuien)

(1) The indoor bath in the building is a hot spring, and there are semi-open-air rock baths, cypress baths and rose baths, and can be reserved.

(2) Jalan net review (dinner4.7 / 5.0, breakfast 4.7 / 5.0)

(3) All rooms are equipped with shower

・Wi-Fi ○

258 Kasumi-ku Uragami, Kami-cho, Mikata-gun, Hyogo 669-6431, JAPAN

1 minutes on foot from

JR Shibayama Station
(pick-up)
Tel +81-796-37-0807

Japanese

sansuien@ares.eonet.ne.jp

Sea area

near the

station

いわや




(iwaya)

(1) The indoor bath in the building is a natural hot spring, rock bath, sand bath, can be reserved for private use.

(2) It's listed on the Michelin Guide 2016 Hyogo version.

(3) Jalan net review (service/cleanliness 5.0 / 5.0, dinner/room 4.9 / 5.0, breakfast 4.7 / 5.0)

・Wi-Fi ○

1253-2 Kasumi-ku

Uragami, Kami-cho,

Mikata-gun, Hyogo

669-6431, JAPAN


4 minutes on foot from

JR Shibayama Station
(pick-up)
Tel +81-796-37-0508

English

qskg91352@gaia.eonet.ne.jp

Sea area

near the

station

こえもん




(koemon)

(1) The indoor bath in the building can be rented out at a hot spring. Morning bath available (6: 00-9: 00)

(2) Jalan net review (dinner 4.8/5.0)

(3) The host who is particular about the ingredients has a 40-year history of cooking.

・Wi-Fi ○

1206 Kasumi-ku

Uragami, Kami-cho,

Mikata-gun, Hyogo

669-6431, JAPAN


2 minutes on foot from

JR Shibayama Station
(pick-up)
Tel +81-796-37-0356

Japanese

-

Sea area

near the

station

湧昇




(yusho)

(1) The indoor bath in the building has an open-air bath at a hot spring. A morning bath is available (6: 00-)

(2)Banquet room, Karaoke available

(3) All rooms with washbasin and washlet toilet

・Wi-Fi ○

153 Kasumi-ku Kundani, Kami-cho, Mikata-gun, Hyogo 669-6402, JAPAN


4 minutes by car from

JR Satsu Station

(pick-up)
Tel +81-796-38-0941

Japanese

info@kasumi-yusho.com

Sea area

near the

station

鶴




(kaku)

(1) The indoor bath in the building is a natural hot spring and can be reserved for private use.

(2) Relax & cozy

(3) Esthetics, massage and diving are possible.(reservation required / paid)

・Wi-Fi ○

209-3 Kasumi-ku

Kundani, Kami-cho,

Mikata-gun, Hyogo

669-6402, JAPAN


2 minutes by car from

JR Satsu Station
(pick-up)
Tel +81-796-38-1030

Japanese

-

Sea area

near the

station

一




(kazu)

(1) The indoor bath uses special soft water and can be reserved for private use.

(2) Jalan Net review (breakfast 5.0 / 5.0, dinner 4.8 / 5.0)

(3) The innkeeper goes to buy seafood every day and can eat fresh seafood

・Wi-Fi ○

153-85 Kasumi-ku

Kundani, Kami-cho,

Mikata-gun, Hyogo

669-6402, JAPAN

3 minutes by car from

JR Satsu Station
(pick-up)
Tel +81-796-20-5959

Japanese

-

Sea area

near the

station

かどや




(kadoya)

(1) The indoor bath in the building is an open-air bath at a hot spring, and can be reserved for private use.

(2) Review of Rakuten Travel (4.59 / 5.0 overall, meals 4.86 / 5.0)

(3) Diving experience possible (reservation required / paid)

・Wi-Fi ○

319 Kasumi-ku Kundani, Kami-cho, Mikata-gun, Hyogo 669-6402, JAPAN


1 minutes by car from

JR Satsu Station
(pick-up)
Tel +81-796-38-0113

English

info@kasumi-kadoya.co.jp

Sea area

near the

station

くろしお




(kuroshio)

(1) The indoor bath in the building is an open-air bath at a hot spring, available 24 hours a day.

(2) Jalan net review (dinner 4.7 / 5.0)

(3) You can eat meals at the open kitchen counter.

・Wi-Fi ○

114 Kasumi-ku Kundani, Kami-cho, Mikata-gun, Hyogo 669-6402, JAPAN


3 minutes by car from

JR Satsu Station
(pick-up)
Tel +81-796-38-0927

Japanese

-

Sea area

near the

station

さだえ




(sadae)

(1) The indoor bath is a hot spring. Can be reserved

(2) There is a handmade Tanzen of the landlady. Relax & cozy.

(3) Cost performance ◎

・Wi-Fi ○

96 Kasumi-ku Kundani, Kami-cho, Mikata-gun, Hyogo 669-6402, JAPAN


3 minutes by car from

JR Satsu Station
(pick-up)
Tel +81-796-38-0948

Japanese

-

Sea area

near the

station

颯花




(satsuhana)

(1) The indoor bath in the building is a hot spring and a ceramic open-air bath. Can be reserved.

(2) Jalan net review (dinner4.7 / 5.0, customer service / service 4.6 / 5.0, cleanliness4.5 / 5.0)

(3) Massage and fishing are possible (Paid)

・Wi-Fi ○

236-1 Kasumi-ku

Munagai, Kami-cho,

Mikata-gun, Hyogo

669-6401, JAPAN

1 minutes by car from

JR Satsu Station
(pick-up)

Tel +81-796-38-0787

Japanese

satsuhana3287@gaia.eonet.ne.jp

Sea area

near the

station

半兵衛




(hambei)

(1) The indoor bath at the hotel is Radon Onsen(hot spring). It can be reserved.

(2) Massage available. (Paid)

(3) Comics, Trump and Othello are available for rent. You can relax at the inn.

・Wi-Fi ○

89 Kasumi-ku Kundani, Kami-cho, Mikata-gun, Hyogo 669-6402, JAPAN

3 minutes by car from

JR Satsu Station
(pick-up)
Tel +81-796-38-0777

Japanese

-

Sea area

near the

station

木船




(kibune)

(1) The indoor bath at the hotel is Radon Onsen. Flowing from the source, can be reserved.

(2) You can enjoy fresh home-grown vegetables, and charcoal-grilled meals in the hearth.
(3) Massage available (Paid), bicycle rental (pay)

・Wi-Fi ○

383-1 Kasumi-ku

Kundani, Kami-cho,

Mikata-gun, Hyogo

669-6402, JAPAN


1 minutes by car from

JR Satsu Station
(pick-up)
Tel +81-796-38-0416

Japanese

kanipuro@gold.ocn.ne.jp

Sea area

near the

station

みはら




(mihara)

1) There is a cypress bath with a fragrance of wood and a private bath with a key

(2) A country inn with a hearth in the hall, where you can feel warmth and nostalgia

(3) Tajima beef, shrimp porcelain grill, crab gratin, etc.

・Wi-Fi ○

268-4 Kasumi-ku

Kundani, Kami-cho,

Mikata-gun, Hyogo

669-6402, JAPAN


2 minutes by car from

JR Satsu Station
(pick-up)
Tel +81-796-38-0314

Japanese

mihara@fancy.ocn.ne.jp

Sea area

near the

station

尾崎屋
(ozakiya)

sold-out

(1) The indoor bath in the building is a hot spring with an open-air bath. Morning bath available (6: 30-10: 00), charter available

(2) Jalan Net review (4.7 / 5.0 overall, 4.9 / 5.0 dinner, 4.8 / 5.0 breakfast)

(3) Right next to "Amarube Iron Bridge", which boasts the highest railway bridge in the East. You can take a walk on a high iron bridge

・Wi-Fi ○

1809-1 Kasumi-ku

Amarube, Kami-cho,

Mikata-gun, Hyogo

669-6671, JAPAN


5 minutes on foot from

JR Amarube Station

(pick-up)
Tel +81-796-34-0064

Japanese

ozakiya@leto.eonet.ne.jp

The most

beautiful

village

area

in Japan

奥但馬美方高原


 コテージ村
(okutajimamikatakogenkotejimura)

(1) A reasonable cottage in the mountains

(2) Altitude 700m, view is the best

(3) Self-cooking required, car required

1432-35 Ojiro-ku Niiya, Kami-cho, Mikata-gun, Hyogo 667-1532, JAPAN

In Mikata Highland

Nature house
67 minutes by taxi from JR Yoka Station
(No pick-up)
Tel +81-796-97-3600

Japanese

sora@obs-mikata.org

The most

beautiful

village

area

in Japan

松田屋




(matsudaya)

(1) New bar lounge in 2018

(2) Rakuten Travel review (service 4.78 / 5.0, meal 4.67 / 5.0)

(3) The restaurant is also operated so you can enjoy delicious Tajima beef

・Wi-Fi ○

634 Ojiro-ku Otani,

Kami-cho, Mikata-gun, Hyogo 667-1503, JAPAN

62 minutes by bus from JR Yoka Station(Outbound: Pick-up at Roadside Station "Hachikita", Return: Will sent to a convenient bus stop you want)

Tel +81-796-97-2151

Japanese

info@matudaya.net

The most

beautiful

village

area

in Japan

大平山荘




(onarusanso)

(1) Tajima beef, Suppon full course, sturgeon full course, local caviar available

(2) There is archery ground

(3) Relax & cozy with family business

・Wi-Fi ○

829 Ojiro-ku Otani,

Kami-cho, Mikata-gun, Hyogo 667-1503, JAPAN

72 minutes by bus from JR Yoka Station(Outbound: Pick-up at Roadside Station "Hachikita", Return: Will sent to a convenient bus stop you want)
Tel +81-796-97-2120

Japanese

-

The most

beautiful

village

area

in Japan

藤乃




(fujino)

(1) Two groups- a day limited cooking inn

(2) Relax & cozy

(3) The scenery overlooking from the hill is attractive

・Wi-Fi ○

615-1 Ojiro-ku Hirano,

Kami-cho, Mikata-gun, Hyogo 667-1523, JAPAN

65 minutes by bus from JR Yoka Station(Outbound: Pick-up at Roadside Station "Hachikita", Return: Will sent to a convenient bus stop you want)
Tel +81-796-97-2522

Japanese

-

The most

beautiful

village

area

in Japan

宙の森ホテル


花郷里
(soranomorihoteru

hanagori)

(1) Experiences such as astronomical observation, night hike, forest yoga, treeing and shower climbing

(2) The indoor bath is 100% natural hot spring

(3) Booking.com Review Award 2020 (8.7 / 10.0 points)

・Wi-Fi ○

300 Ojiro-ku Otani,

Kami-cho, Mikata-gun, Hyogo 667-1503, JAPAN

63 minutes by bus from JR Yoka Station(Outbound: Pick-up at Roadside Station"Hachikita", Return: Will sent to a convenient bus stop you want)
Tel +81-796-99-6009

Japanese

staff@soranomori.site

The most

beautiful

village

area

in Japan

スミノヤゲストハウス




(suminoyagesutohausu)

(1)Relax & cozy Owned by a young immigrant woman

(2) Many workshops

(3) Renovating old houses so you can relax

・Wi-Fi ○

197 Ojiro-ku Nukida,

Kami-cho, Mikata-gun, Hyogo 667-1544, JAPAN

68 minutes by bus from JR Yoka Station(Outbound: Pick-up at Roadside Station"Hachikita", Return: Will sent to a convenient bus stop you want)
Tel +81-80-6122-4014

English

suminoya55@gmail.com

Mountain

area

near the

competition venue

プチホテル


Aoitori
(puchihoteru
aoitori)

(1) Paragliding, treeing, tennis, soba making experience possible (Paid)

(2) Enjoy nature in the middle of a plateau, in front of the long model competition venue

(3) BBQ dinner available

・Wi-Fi ○

535-1 Muraoka-ku

Osasa, Kami-cho,

Mikata-gun, Hyogo

667-1344, JAPAN

55 minutes by bus from JR Yoka Station(Outbound: Pick-up at Roadside Station "Hachikita", Return: Will Send to "Fukuoka Hachikita guchi" bus stop)Tel +81-796-96-0605

English

aoitori-ski@nike.eonet.ne.jp

Mountain

area

near the

competition venue

米子屋




(yonagoya)

(1) The indoor bath in the building is a radon hot spring with a rock bath where you can cure

(2) Booking.com word-of-mouth communication rating (8.0 / 10.0 overall)

(3) Old atmosphere, and cost performance ◎

・Wi-Fi ○

1029 Muraoka-ku

Osasa, Kami-cho,

Mikata-gun, Hyogo

667-1344, JAPAN

48 minutes by bus from JR Yoka Station(Outbound: Pick-up at Roadside Station "Hachikita", Return: Will Send to "Fukuoka Hachikitaguchi" bus stop)Tel +81-796-96-0754

Japanese

-

Mountain

area

near the

competition venue

向畑




(mukaibata)

(1) The indoor bath in the building is a radon hot spring where you can retreat

(2) Local ingredients, homely

(3) Reasonable

・Wi-Fi ○

752-1 Muraoka-ku

Osasa, Kami-cho,

Mikata-gun, Hyogo

667-1344, JAPAN

48 minutes by bus from JR Yoka Station(Outbound: Pick-up at Roadside Station "Hachikita", Return: Will Send to "FukuokaHachikitaguchi"bus stop)Tel +81-796-96-0234

Japanese

mukaibata0234@ares.eonet.ne.jp

Mountain

area

near the

competition venue

なかや




(nakaya)

(1) Local ingredients, 6 kinds of hot pot dishes(nabe), meal volume ◎

(2) Gymnasium available

(3)Relax & cozy

・Wi-Fi ○

755-1 Muraoka-ku

Osasa, Kami-cho,

Mikata-gun, Hyogo

667-1344, JAPAN

49 minutes by bus from JR Yoka Station(Outbound: Pick-up at Roadside Station "Hachikita", Return: Will Send to "FukuokaHachikitaguchi" bus stop)Tel +81-796-96-0231

Japanese

mail@h-nakaya.com

Mountain

area

near the

competition venue

ひさ家




(hisaya)

(1) The indoor bath in the building is a radon hot spring where you can use a hot spring. There is an open-air bath

(2) Jalan Net review (dinner 4.6 / 5.0, bath 4.8 / 5.0)

(3)Tennis, Paragliding, Table Tennis available(Paid)

・Wi-Fi ○

756-2 Muraoka-ku

Osasa, Kami-cho,

Mikata-gun, Hyogo

667-1344, JAPAN

49 minutes by bus from JR Yoka Station(Outbound: Pick-up at Roadside Station "Hachikita", Return: Will Send to "FukuokaHachikitaguchi" bus stop)Tel +81-796-96-0211

Japanese

info@oyado-hisaya.jp

Mountain

area

near the

competition venue

わさびや




(wasabiya)

(1) Carefully selected ingredients, homegrown vegetables

(2) Luggage storage, parking and free bathing after check-out

(3) Selling skunk cabbage "Mizubasho" seedlings

・Wi-Fi ○

758 Muraoka-ku Osasa, Kami-cho, Mikata-gun, Hyogo 667-1344, JAPAN

49 minutes by bus from JR Yoka Station
(Outbound: Pick-up at Roadside Station

"Hachikita", Return: Will Send to "FukuokaHachikitaguchi" bus stop)
Tel +81-796-96-0753

Japanese

Mountain

area

near the

competition venue

SASAYA




(sasaya)

(1) The indoor bath in the building is a radon hot spring where you can retreat

(2) Booking.com review (9.3 / 10.0)

(3) Use of local ingredients

・Wi-Fi ○

687-1 Muraoka-ku

Osasa, Kami-cho,

Mikata-gun, Hyogo

667-1344, JAPAN

48 minutes by bus from JR Yoka Station(Outbound: Pick-up at Roadside Station "Hachikita", Return: Will Send to "FukuokaHachikitaguchi"bus stop)Tel +81-796-96-0246

English

sasaya.0796960246@gmail.com

Mountain

area

near the

competition venue

さかえ




(sakae)

(1) The indoor bath in the building is a radon hot spring where you can use a hot spring. Morning bath available (6: 30-8: 30)

(2) Jalan Net review (Breakfast 4.4 / 5.0, Customer Service 4.2 / 5.0)

(3) Table tennis, soba making experience possible (Paid)

・Wi-Fi ○

688 Muraoka-ku Osasa, Kami-cho, Mikata-gun, Hyogo 667-1344, JAPAN

48 minutes by bus from JR Yoka Station(Outbound: Pick-up at Roadside Station "Hachikita", Return: Will Send to "FukuokaHachikitaguchi"bus stop)Tel +81-796-96-1111

Japanese

sakae.hachikita@gmail.com

Mountain

area

near the

competition venue

天空の宿 

さら
(tenkunoyadosara)

(1) Near a model competition venue where you can enjoy nature in a house in the forest

(2) Soba making experience, BBQ possible (Paid)

(3) Home grown vegetables, home grown rice, Reasonable

・Wi-Fi ○

611-11 Muraoka-ku

Osasa, Kami-cho,

Mikata-gun, Hyogo

667-1344, JAPAN

52 minutes by bus from JR Yoka Station(Outbound: Pick-up at Roadside Station "Hachikita", Return: Will Send to "FukuokaHachikitaguchi"bus stop)Tel +81-796-96-0727

Japanese

-

Mountain

area

near the

competition venue

みはらしや




(miharashiya)

(1) Located at the highest point of the inn street as the name of "Miharashi=nice view"

(2)Reasonable

(3)Relax & cozy

・Wi-Fi ○

729 Muraoka-ku Osasa, Kami-cho, Mikata-gun, Hyogo 667-1344, JAPAN

49 minutes by bus from JR Yoka Station(Outbound: Pick-up at Roadside Station "Hachikita", Return: Will Send to "FukuokaHachikitaguchi"bus stop)Tel +81-796-96-0604

Japanese

-

Mountain

area

near the

competition venue

かどや新館




(kadoyasinkan)

(1)Jalan Net review (service4.4 / 5.0, cleanliness 4.2 / 5.0)

(2) BBQ available (Paid)
(3) Relax & cozy, Cost performance ◎ Many special deals

・Wi-Fi ○

1006 Muraoka-ku

Osasa, Kami-cho,

Mikata-gun, Hyogo

667-1344, JAPAN

49 minutes by bus from JR Yoka Station(Outbound: Pick-up at Roadside Station "Hachikita", Return: Will Send to "FukuokaHachikitaguchi"bus stop)Tel +81-796-96-0756

Japanese http://hachikita-kadoya.com/

kadoya-h@zeus.eonet.ne.jp

Mountain

area

near the

competition venue

えびすや




(ebisuya)

(1)Relax&cozy. Cost performance ◎

(2) Home cooking according to the season is popular

(3) The owner is qualified for green tourism

・Wi-Fi ○

1138 Muraoka-ku

Osasa, Kami-cho,

Mikata-gun, Hyogo

667-1344, JAPAN

48 minutes by bus from JR Yoka Station
Tel +81-796-96-0749

Japanese

ebisuya8kita@leto.eonet.ne.jp

Mountain

area

near the

competition venue

ロッヂ野間




(rojji noma)

(1) Enjoy nature in a house in the ski area, near the long model competition venue

(2) Cost performance ◎

(3) Thelandlady is fluent in English

・Wi-Fi ○

551-2 Muraoka-ku

Osasa, Kami-cho,

Mikata-gun, Hyogo

667-1344, JAPAN

56 minutes by bus from JR Yoka Station(Outbound: Pick-up at Roadside Station "Hachikita", Return: Will Send to "FukuokaHachikitaguchi"bus stop)Tel +81-796-96-0718

English

lodgenoma@zeus.eonet.ne.jp

Mountain

area

near the

competition venue

西村屋




(nishimuraya)

(1) The indoor bath in the building is a radon hot spring where you can retreat

(2) Meals are big volume

112-1 Muraoka-ku

Osasa, Kami-cho,

Mikata-gun, Hyogo

667-1344, JAPAN

48 minutes by bus from JR Yoka Station
Tel +81-796-96-0737

Japanese

-

Mountain

area

near the

competition venue

リゾートヴィラハチ北




(rizotobira hachikita)

(1) The indoor bath in the building is a hot spring

(2) Boasting homemade dishes utilizing local ingredients

(3) BBQ available, table tennis available (Paid), astronomical telescope rental free

・Wi-Fi ○

635-7 Muraoka-ku

Wachi, Kami-cho,

Mikata-gun, Hyogo

667-1347, JAPAN

45 minutes by bus from JR Yoka Station(Outbound: Pick-up at Roadside Station "Hachikita", Return: Will Send to "FukuokaHachikitaguchi"bus stop)Tel +81-796-96-1178

Japanese

-

Mountain

area

near the

competition venue

うづかの森




(uzukanomori)

(1) Renovated junior high school

(2) Gymnasium with ground

(3) Usually 10people per room. There is a large room that can accommodate 36 people

・Wi-Fi ○

230 Muraoka-ku

Moriwaki, Kami-cho,

Mikata-gun, Hyogo

667-1341, JAPAN

50 minutes by bus from JR Yoka Station(10 minutes walk from "Fukuoka Hachikita Kitaguchi" bus stop)
Tel +81-796-96-0024

English

info@udukanomori.jp

Mountain

area

near the

competition venue

兎和野高原


野外教育センター
(uwanokogen
yagaikyoikusenta)

(1) Inside the competition venue, Cost performance ◎

(2) 16 lodge tents for 10 people, 25 tents for 6 people, auto camp

(3) Treeing, handmade pizza making experience using local ingredients possible (Paid)

* Players cannot stay inside the competition venue

791-1 Muraoka-ku

Yado, Kami-cho,

Mikata-gun, Hyogo

667-1336, JAPAN

80 minutes by bus from JR Yoka Station (50 minutes walk from "Fukuoka Hachikita Kitaguchi" bus stop)

Tel +81-796-94-0211

Japanese

info@uwano.jp

Mountain

area

nearby

the

competition venue

柤大池公園


バンガロー村
(kebioikekoen
bangaromura)

(1) Free stay in cottage and log house rented for one two stories

(2) 30 auto camps, administration building, cooking building, toilet, ground, tennis court

(3) Self-cooking required, car required


1006-1 Muraoka-ku

Kebioka, Kami-cho,

Mikata-gun, Hyogo

667-1354, JAPAN
73 minutes by bus from JR Yoka Station

(19 minutes walk from "Kebioka" bus stop)
Tel +81-796-95-1109

Japanese

-
このページに関するお問い合わせ先
教育委員会 生涯学習課
電話番号:0796-94-0101
FAX番号:0796-98-1532